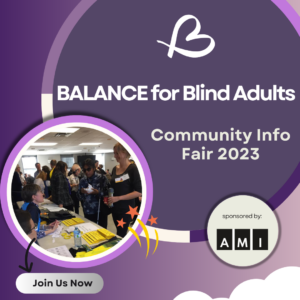 The Beloved BALANCE Community Info Fair is BACK!
Proudly Presented by: Accessible Media Inc.
After over 4 years, we are thrilled to announce the return of BALANCE's ever-popular Community Info Fair, Toronto's exclusive opportunity for our community to connect with each other, BALANCE staff and volunteers, products and services providers for people with visual disabilities in our City.
What to Expect:
New accessible venue for a seamless experience
Longer hours for learning and engagement opportunities
Volunteer sighted guides available
Conveniently located near North York Centre Subway - easy access via transit/WheelTrans/parking
Free small group talks with products and services companies, by sign up
A loot bag of goodies for the first 100 attending
A long-awaited chance to mingle in person with BALANCE staff, volunteers and board members, as well as see old friends, and make new ones!
With pre-registration, we will provide you with assistance from WheelTrans drop off or Subway, and a volunteer sighted guide for your time at the Fair, if requested. Email: infofair@balancefba.org or phone: 416-236-1796, ext. 0 to register.
Click here to visit our Community Info Fair Facebook event page.
We very much look forward to seeing you on September 9!