Community Info Fair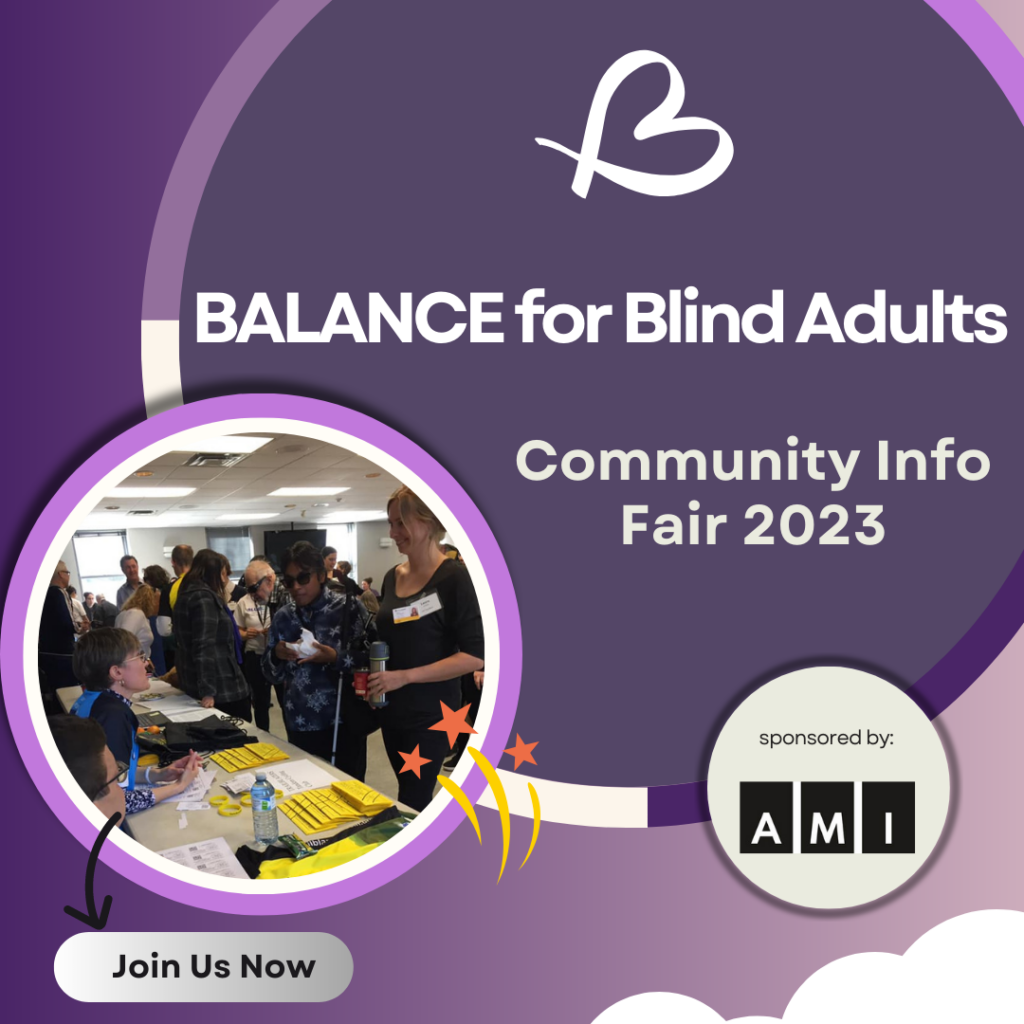 After over 4 years, we are thrilled to announce the return of the ever-popular BALANCE Community Info Fair! Toronto's exclusive opportunity to connect with each other, product vendors and service providers supporting individuals with visual disabilities, we are pleased this year to have the sponsorship of Accessible Media Inc.
When
Saturday, September 9, 2023, 10:00 AM-3:00 PM
(drop-in anytime, you do not need to plan to stay the whole time)
Where
North York Central Library-Concourse Event Hall (5120 Yonge Street Toronto, ON)
Driving to the North York Central Library
From the 401
Exit 401 onto Yonge Street North
Continue north to 5120 Yonge St.
From Gardiner Expressway
Exit Gardiner Expressway onto Don Valley Parkway North
Exit at 401 East
Continue to Yonge Street North
Continue north to 5120 Yonge St.
Nearby paid parking options
Beecroft Rd. Parking
150-160 Beecroft Rd. Toronto, ON M2N 5W4
Uncovered/above ground
No height restriction
North York Centre Underground Parking
5120 Yonge St. Toronto, M2N 5N9
Enter from Beecroft Rd.
Covered/under ground
Height restriction: 1.83m
What to expect
New accessible venue for a seamless experience, and easy access via transit/WheelTrans/library parking lot
Longer hours for learning and engagement opportunities
Volunteer sighted guides available
Opportunity to sign up for small group talks certain exhibitors
A long-awaited chance to mingle in person with BALANCE staff, volunteers and board members, as well as see old friends, and make new ones!
Visit our Community Info Fair Facebook Event Page.
If you wish to have assistance on site, please pre-register via email at infofair@balancefba.org or call 416‑236‑1796, ext. 0 during regular office hours.
We look forward to seeing you on September 9!
---
SmallTalks
10:30 AM – 11:00 AM RDSP Investment Accounts
11:15 AM – 11:45 AM Enhancing Vision with eSight for Independent Quality of Life
12:00 PM – 12: 30 PM The Power of Low Vision Rehabilitation: A New Way To See the World
12:45 PM -1:15 PM The Technology Key to the Employment Door: The BALANCE PEP and AT Apprenticeship Programs
1:30 PM -2:00 PM AMI Paid Apprenticeship
2:00 PM – 2:30 PM Digital Prosthetic Eyes: The Future is (Almost) Here
---
Interested in becoming an exhibitor?
To register as an exhibitor at the BALANCE Community Info Fair 2023, please complete the registration form by August 24th, 2023.
---
Featuring: