News
 *Because of BALANCE* fundraising campaign is a "smashing" success!
From World Sight Day, October 11 to Remembrance Day, November 11, 2018, BALANCE for Blind Adults held our first-ever peer-to-peer fundraising campaign. Called "Because of BALANCE", the campaign highlighted clients'  stories about why they are grateful for BALANCE programs and services. BALANCE is so very pleased to announce that we raised $15,644, effectively more than tripling our goal of $5000!
BALANCE gratefully acknowledges the participation of our amazing client and staff fundraisers, and the many donors who contributed to this campaign. In doing so, they have directly strengthened our group programming for this fiscal year, making it possible for us to increase these opportunities for our clients.
Part way through the campaign, an anonymous donor stepped forward with the offer to match any funds raised in the last 12 days of the campaign. This gesture resulted in a steep rise in participation and significantly contributed to the incredible success of the campaign, and we are truly grateful.
The impact of these funds is significant. Here are a few examples of the direct impact of these funds:
$800 pays for 6 weeks of our extremely successful psycho-social support group
$2500 will permit us to bring in an expert to run a self-defense program (oft-requested by clients)
$800 covers the cost of a 10 week adapted yoga program
$600 will pay guest experts to make special presentations and provide workshops to clients, and
$3000 will pay for 5 front line staff to take part in professional development opportunities
BALANCE for Blind Adults is a community-based service organization that, for the past 32 years, has been providing clients in Toronto who are blind or visually impaired with instruction and support. Our staff aim to help clients achieve their personal goals related to technology, orientation and mobility,  community engagement and daily living skills. BALANCE recognizes that each client goal is unique and we are able to customize support accordingly.
That's the BALANCE difference.
Everyone in the BALANCE community has a "Because of BALANCE" story. In fact, it's the most common thing our staff hear, expressed as gratitude and appreciation. Many of our clients don't know how to express their gratitude in a meaningful way, so the BALANCE team is trying something different. With a donation in honor of the BALANCE difference, clients and their networks can make a gift of gratitude that benefits staff, clients, and future clients alike.
To read our fundraisers' stories, click https://www.canadahelps.org/en/charities/balance-for-blind-adults/p2p/becauseofbalance/#participants
This campaign has ended for this year, but you can still donate! Click https://www.canadahelps.org/en/charities/balance-for-blind-adults/
---
Arif Virani, MP, interviews BALANCE staff about our Canada Summer Jobs experience!
Canada Summer Jobs visit with BALANCE for Blind Adults

#ParkHP residents: this week I am highlighting a few of the amazing organizations I had the opportunity to visit over the summer that participated in the #CanadaSummerJobs program as we gear up for #backtoschool!Today, I highlight Balance for Blind Adults: an organization right here in our community working to ensure people with vision loss live a quality life full of opportunities and free of social barriers. I had the pleasure to talk to Deborah, Chelsea, and their Canada Summer Jobs student Sam about the work they've been doing – check out our interview to learn more!Tune in tomorrow for a new Canada Summer Jobs interview!

Posted by Arif Virani on Monday, August 27, 2018
---
Welcome to Naomi Hazlett, Occupational Therapist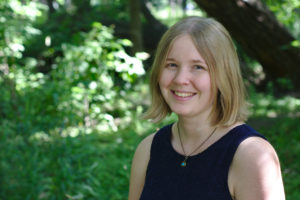 We are pleased to welcome the newest addition to our staff team, Naomi Hazlett, MSc.OT. Naomi brings a wealth of relevant experience and creative energy to the position.  She is a recent graduate of the occupational therapy program at the University of Toronto, and holds a bachelor's degree in psychology and cognitive science, also from U. of T. She has a wide variety of interests and passions including health & wellness, accessibility, education, research, writing, and promoting mental health in all areas of life. Naomi's strong recreation/leisure background and her deep knowledge of Toronto community and neighbourhoods, will provide BALANCE with added expertise to support, encourage and teach our clients.
---
BALANCE Request for Proposals
FUND DEVELOPMENT CONSULTANT
Project Purpose
BALANCE for Blind Adults wishes to retain a Fund Development Consultant who will develop a comprehensive and sustainable fund development plan and a donor engagement strategy.
 Who we are
BALANCE for Blind Adults is a lively not-for-profit agency with strong roots in the community. We have more than 30 years' experience training adults who are blind or partially sighted. We offer free instruction one-on-one or in a group setting.
The BALANCE mission is to generate opportunities for those living with vision loss through innovative, inclusive, community-oriented programming and partnerships. Our strong community focus keeps us grounded and our spirit open to change.
Our vision is for people to live a quality, enriched life that is engaged with communities and free of social barriers.
Background
The services provided by BALANCE are free of charge to our clients, because the cost is covered by the Toronto Central Local Health Integration Network (TC-LHIN)
In addition, our generous donors assist BALANCE to improve and expand our service and program offerings and with our daily operations. Grant revenues are also a part of our financial picture as a not-for-profit organization. We also offer training and consultation to those working with persons who are blind or partially sighted, and to our clients' workplaces, for a fee.
One of our strategic priorities is to grow the organization's capacity in fund development. Our Board of Directors and executive leadership are ready to take fund development to its next level. To accomplish this, we need a fund development plan that will establish the necessary building blocks to sustainand grow fund development. We also recognize that with the number of individuals who are connected to our brand, we have a wonderful opportunity to invest in a donor engagement strategy that will allow us to acquire and retain donors.
Scope of Work
Establishing the building blocks of a sustainable Fund Development Program:
Develop a Strategic Fund Development Plan.
Provide guidance and recommendations to set up and sustain a Board Development Committee.
Develop a compelling case for support.
Implement a database to manage, support, grow and sustain a long-term fund development plan.
Develop a donor engagement strategy
Increase the pool of people who make the first gift.
Increase the commitment of current donors.
Proposal
The proposal should include a completed questionnaire (Appendix A of this Request for Proposals) covering various aspects of the criteria.
Questions and Submission: Deborah Gold, Executive Director, d.gold@balancefba.org
| | |
| --- | --- |
| Schedule | Date |
| Request for Proposals Posted | February 9, 2018 |
| Questions Submitted Deadline | April 6, 2018 |
| Responses provided to all RFP respondents | April 18, 2018 |
| Proposals due | May 10, 2018 |
| Review and Selection Process | May 11-18, 2018 |
| Contract signed and project commencement | May 25, 2018 |
| Project completion | July 27, 2018 |
Appendix A
Item
Rated Criterion
Response
Capabilities of the Firm and Team (40%)
1.   
Describe your firm, including its size, information on the number of each level of professional staff in the firm and any additional information you think relevant to providing the services to BALANCE.
 
2.   
Describe your firm's experience in creating fund development plans for not-for-profit organizations, especially those funded by the Ministry of Health and Long-Term Care.
 
3.   
Please provide 3 client references we may contact.

4.   
Describe the size, composition and organization of the professional team proposed for this assignment. Please provide the CVs of the proposed partner, manager, and auditors
Value Add (20%)
1.   
Describe what other value add services your firm can provide to BALANCE for Blind Adults.
Cost (40%)
1.   
Provide the proposed fee to provide a sustainable fund development plan for BALANCE for Blind Adults. Please provide fee as a fixed cost assessment for the proposed scope of work, exclusive of HST.
---
BALANCE for Blind Adults Responds to the Canadian General Standards Board's draft standard on service dog teams
7/10/2017
The following official response was submitted today to the Canadian General Standards Board. We thank the Board for the opportunity to provide input.
Click on the draft standard to read it in its entirety.
Have your own say at the following link until July 14: submit your comments.
Read the official response of CNIB by going to: CNIB response
Read a good national article (Canadian Press through CTV News online coverage) by going to: Canadian Press article.  We are very pleased to claim the article's writer as one of our own, BALANCE Board Vice-Chair, Michelle McQuigge.
BALANCE for Blind Adults' Official Response:
BALANCE for Blind Adults provides services and programs to adults who are blind, in the City of Toronto, and has been doing so for the past 31 years. Our community support services are funded by the Toronto Central Local Health Integration Network. These services include Orientation and Mobility instruction to guide dog users, to enhance and bolster the relationship between guide dog and handler. We are often called in to help when our client first receives their new guide dog (which may be their 2nd, 4th or 6th dog), and dog and handler are getting to know each other's needs, and forming their bond. In addition, we are regularly asked to assist when a dog and handler are learning a new route. We provide assistance all over the city, with negotiating stairways, subways and pathways, as well as office buildings, gymnasiums and college and university campuses, bus routes and much more. All of our clients are adults , and about 10-15% of them are guide dog users. We have 3 Orientation and Mobility Instructors, who teach full time in the city, and each of them are experienced and skilled in working with guide dog handlers and their dogs, after they have returned from their supplying and training facility, whether in the United States or Canada.
Since word of the new proposed Service Dog Standard has come to the attention of guide dog users in Canada, the BALANCE phones have been ringing steadily, with our clients asking us to make a submission on their behalf, as an Orientation and Mobility training facility. We have decided therefore to take the unusual step of speaking on behalf of our clients and their current and future dogs, and on behalf of our instructors, whose training is based on a clear understanding of the rigorous international standards for the training and treatment of guide dogs for blind persons.
We support the efforts of the Canadian General Standards Board to carefully draft a comprehensive standard with the intention of protecting the public and "service" dogs. However, we would assert that the proposed new standards don't take into account the unique tasks required of guide dogs who are working with people who are blind, and they require additional tasks that are not possible or are not necessary, for these people and dogs to perform. We  therefore  submit that we would support a standard that states that guide dogs for blind persons that have been trained by a school that has been accredited by the International Guide Dog Federation, have sufficient training to work as service dogs in the community. In addition, the standard would state that instructors who train students at these accredited schools have sufficient training to instruct users of guide dogs, and users of guide dogs who attend the schools have received sufficient training to use a guide dog in public.
Given that strict international standards exist, we would ask that the proposed standard include an exemption for schools that are accredited by the International Guide Dog School Federation, and further, that their graduate teams be exempt from the strictures built into the Canadian draft standards, that simply should not apply to guide dog users who are blind or their dogs.
As we are an organization with about 10% guide dog user clients, 10% guide dog user staff, and 20% guide dog user board members, we feel it is necessary to point out the challenges inherent in the proposed new standards, and the need for an exemption for guide dog users who are blind persons.
---
BALANCE Welcomes Occupational Therapy Field Placement Student
We are pleased to welcome our summer field placement student from the University of Toronto Department of Occupational Science and Occupational Therapy. Holly Pearson will provide us with assistance in the planning and delivery of our Pre-Employment Program (see Blog for more information), and with our summer client needs research project. When she graduates, Holly hopes to focus her career with adults and older adults, and we look forward to helping her gain an understanding of the needs of people who are blind through her full-time placement with us. Holly will work with us until August 25. Welcome Holly!
---
BALANCE Welcomes Summer Student
We are pleased to welcome our summer student office assistant Gajuna Mathiyalagan. Gajuna's position is mostly funded by Canada Summer Jobs, and we are so pleased to have this federal support to assist us this summer. Gajuna is a 4th year student in Life Sciences at McMaster University, and brings with her a wealth of experience as an Office Assistant and Emergency Department volunteer. We look forward to several productive months with Gajuna's capable contributions.
---
BALANCE hosts "Celebrity Presenter"  on May 1, 2017!
Tom Dekker to visit BALANCE for a special (Pay What You Can) presentation…
We are pleased to announce that a special 'celebrity guest' will visit BALANCE for a technology presentation* on Monday May 1. Tom Dekker, former BALANCE staff member and assistive technology expert will present on the topic:
"Seeing the Touch Screen Through the Mind's Eye"
Monday May 1, 4:30-6:00 p.m., Pay What You Can (minimum $5.00)
(followed by "dinner with Tom", at your own expense, at Jekyll and Hyde pub, if you wish).
BALANCE offices, 2340 Dundas St. W., Unit G-06
Come to this workshop to learn how touch-screen proficiency can be significantly increased by applying techniques to visualize the screens of your favourite apps and work more quickly with them.
Here are a few more notes from Tom to potential participants:
"Greetings to everyone, with a special hello to BALANCE participants who have studied iOS with me in the past. I am very happy to have been invited back to do a presentation during this visit back home. Over the last few years I have been giving a lot of thought to ways in which touch-screen proficiency can be significantly increased. I think we can have a fun and beneficial time as you learn to apply techniques that will help you to visualize the screens of your favourite apps and work more quickly with them. Please be sure to bring earbuds so as not to create a distraction where many iPhones are speaking at once. That way, you can keep one ear on me, and your other ear on your iPhone or iPad.
In advance of the session, you can sign up to receive a brief document explaining what "iPhone Eyes-Free" is all about, or subscribe to receive follow-up information about teaching/learning resources that we are developing. To do this, visit:
If there is interest, we can also discuss the fact that a growing number of vision-impaired people are exploring online digital marketing activities as a viable alternative to "the traditional job search", and how much of it can be done right from your iDevice. It is encouraging and exciting to contemplate the potential in this field I look forward to seeing you on May 1!"
To register for this exciting special workshop, please call Chelsea Mohler at 416-236-1796, ext. 225, and state your name and that you are registering for "Dekker workshop" or email her at c.mohler@balancefba.org
*Please note: This workshop is PWYC (pay what you can) with a minimum recommended donation to BALANCE of $5.00. Enrollment is limited, so please pre-register by April 28 (at the latest) with Chelsea!
**We will be videotaping this session for marketing purposes; if you do not want to appear in the video, please let us know in advance so that we may seat you accordingly.
Thank you
---
BALANCE hosts "Myths and Facts" Workshop for Prospective Guide Dog Users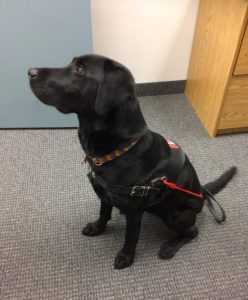 BALANCE Orientation and Mobility instructors and  guide dog users hosted a workshop March 22, 2017 for blind adults considering a guide dog. Much was discussed and learned, because it's both rewarding and challenging to be a guide dog owner, and people do have a lot of questions. If you have an idea for a workshop at BALANCE, please do give us a call!
---
New Staff Member to BALANCE!
BALANCE is pleased to welcome Rosie Arcuri as our new Assistive Technology Instructor, Low Vision
Rosie joined us in January, and immediately became an active participant on our team, teaching our clients and planning an innovative new summer program for young adults. With a degree in Psychology and five + years working in the community sector with people with disabilities, Rosie is passionate about helping people who are visually impaired achieve their goals. Rosie comes to us from   Independent Living – Montreal (IL-M), where she organized and taught courses as Program Coordinator.
Rosie has experience with adaptive technology in both her personal and professional life. As someone with a visual impairment, she has firsthand knowledge of both the wonders and challenges of assistive technology. Furthermore, she has been able to pass on her insights to clients through her work with the Adaptech Research Network at Dawson College and IL-M.
Rosie has also been involved with the blindness community for years as a member of the Alliance for Equality of Blind Canadians (AEBC), Montreal chapter's executive board, a board member for the National Educational Association for Disabled Students (NEADS), and she has been a support group animator for the CNIB in Montreal. She has also worked with people who have other disabilities, such as students, seniors, immigrants, and job seekers. Furthermore, Rosie is bilingual in French and English and can speak and understand Italian.
---
BALANCE receives Enabling Accessibility grant!
Great news! BALANCE has today learned that we have received a federal grant from Employment and Social Development Canada's Enabling Accessibility Fund, to install an automatic door opening system on our front doors. Besides the SDC reviewers, we would like to thank the Crossways Complex management and the TC-LHIN for their letters of support, and we look forward to improving access to our offices in the coming weeks.
---
Join our Board of Directors!
Calling Committed and Passionate People to Volunteer and Serve on the BALANCE for Blind Adults Board of Directors!
We invite people who live or work in Toronto to fill vacant positions on the volunteer Board of Directors.  We value professional expertise of all sorts, but experience in the following areas would presently be considered as a particular asset to the Board:
Legal (including, corporate governance, health, human rights, mental health, privacy)
Communications and/or public relations
Fundraising
Candidates will be expected to commit to bi-monthly Board meetings, and be willing to take part in Board committee tasks and meetings outside of the regularly scheduled meetings.  Board meetings can either be attended in-person or via teleconference.
We welcome people from diverse backgrounds.
Please email your letter of interest and resume, in Word format, by April 30,  to:
Recruitment Committee,
BALANCE Board of Directors
c/o Michelle McQuigge, Vice-Chair
---
Spring forward with a new course at BALANCE!
BALANCE is offering a wide range of interesting courses this spring.
---
Generous Donation Provides Upgrades to BALANCE Training Centre!
We are  pleased to announce that a generous (anonymous) donation is bringing a technological and physical face lift to the BALANCE training centre.  We are so pleased to announce that we have purchased 5 new computers and we will be adding mobile computing technologies and making key software additions and upgrades.  In addition we have purchased comfortable new chairs for our trainees, and the donation has also made it possible to improve our staff office with much needed brand new excellent office chairs for all the staff.  In the next few months, this generous gift will have made a significant positive impact on the BALANCE client experience.
---
BALANCE Announces Agreement with L.A.M.P. Information Technology Services
BALANCE is pleased to announce an agreement that will give us IT support from Lakeshore Area Multiservice Program (LAMP) IT Services.  This service is a social enterprise that is providing BALANCE with reasonably priced HelpDesk services and necessary IT upgrades such as improved wifi, and a new email server.  In addition, LAMP IT is able to source new computers for our staff and our training centre at extremely reasonable costs, and charges a reasonable rate to install and maintain our servers and our equipment.  We are so pleased to be working with LAMP-IT, and look forward to a productive relationship as we move forward on our IT infrastructure development plan.  I would like to thank Reconnect Shared Services (a department at Reconnect Community Mental Health) for their comprehensive (LHIN-funded) IT assessment provided to us at BALANCE.  This assessment carefully mapped our as-is state against the best practice standards and noted the priorities in upgrading our IT infrastructure so that we can operate in a state-of-the-art environment.
---
BALANCE and Accessible Media Inc. form New Partnership to Benefit Clients!
AMI and BALANCE have signed a sponsorship agreement that will see AMI supporting several key events this year, in honour of BALANCE's 30th anniversary.  AMI will provide the wonderful contribution of a professionally produced video about BALANCE, to be available on the BALANCE website, in addition to sponsorship dollars.  Please take the time to visit the AMI website and the AMI booth at events that you attend this year.  We are grateful to AMI for their support, and we are certain BALANCE clients will benefit from the productive relationship between our two organizations.
---
BALANCE on Accessible Media Inc.
BALANCE was recently featured on a News show called AMI This Week.