Season 2: Living Blind Podcast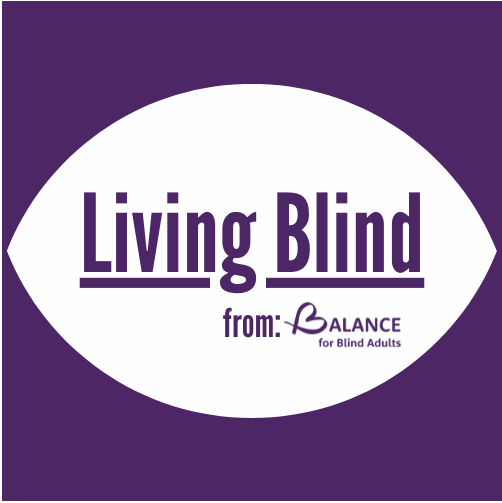 Season 2, Episode 8: Charles Bonnet Syndrome 101 With Dr. Keith Gordon
Living Blind S2E8 Audio Transcript (PDF)
For this episode, and in light of Vision Health month, Naomi Hazlett sits down with Balance's own Dr. Keith Gordon for a conversation all about Charles Bonnet Syndrome. Often described as the ocular equivalent of Phantom Limb, Charles Bonnet Syndrome is a condition where by people with vision loss experience visual hallucinations. Nearly one in five people with vision loss have Charles Bonnet, and while it has been known about for over 250 years, it remains largely unheard of, undiagnosed, or diagnosed incorrectly. In fact, up until he began doing research work with the Canadian National institute for the blind, Keith himself had not heard of this condition after 30 years in the ophthalmic industry. Nor had Naomi heard of it as an occupational therapist, until she began working with clients and staff at Balance for Blind Adults.
Keith tells stories about the research he has conducted up to this point, including some of the things people have reported seeing and how they feel about them, how many ophthalmologists, retina specialists, independent living instructors and other practitioners inform their patients of Charles Bonnet, and the reluctancy in people to talk about their hallucinations for fear of being committed into the mental health system. He also elaborates on the research that has been done on the neurological side of things, but stresses that more investigation must be done at the level of the brain in order to gain more understanding about the condition and potentially find a cure.
Keith and Naomi offer advice to both the general public and medical community on how to deal with Charles Bonnet Syndrome appropriately, and while there is currently no cure or treatment, Keith offers practical solutions for those with CBS on how to cope with these visual hallucinations when they occur.
Dr. Keith Gordon is Chair of the Board of Directors at Balance for Blind Adults, and is currently the Senior Research Officer of the Canadian Council of the Blind (CCB). His primary research interests lie in the area of ophthalmic epidemiology. He is an adjunct professor in the Department of Ophthalmology and Vision Sciences at the University of Toronto."
Find out more about Charles Bonnet Syndrome through the following resources:
---
Season 2, Episode 7: Getting Psyched With the Schiafone Brothers
Living Blind- S2E7 Audio Transcript (Word)
Living Blind- S2E7 Audio Transcript (PDF)
Our regular host, Naomi Hazlett, is back! And in this episode she is joined by the Schiafone Brothers, Christopher and Brandon Schiafone. That's right, a double feature! Chris has done work as a data and accessibility analyst, and is currently doing research work with the Centre for Applied Neuroscience. He is currently investigating a Master's degree in the areas of psychology, Neuroscience and Design. Brandon is a certified life coach, with a background in behavioural psychology. His future will see him utilizing his background in life coaching, along with his education in psychology, to become a certified and practicing couples counsellor.
The duo discuss their different backgrounds in psychology, how psychology has helped in the advancement of their careers, and how they worked with their professors to make visual aspects of learning such as diagrams, neuroanatomy, anatomical textbooks, and data and statistical analysis software more inclusive without breaking the bank. What's this about working with a model of a human brain? And what do a metallic cookie sheet, silly puddy, and magnets have to do with graphing software? Tune in to find out!
---
Season 2, Episode 6: Meet Me at the Intersection of…with Timeshia Edwards
Living Blind- S2E6 Audio Transcript
In the third and final installment of our 3–part series "Meet me at the Intersection of…", we have guest host Ramya Amuthan, and her guest Timeshia Edwards.
Timeshia is almost totally blind, and is Moose Cree First Nations. She is currently working at the CNIB as a coordinator in the Come To Work Program, serving Ontario west and north. Growing up the eldest of six children in the foster system in small town Northern Ontario, and being the only one with sight loss, she then moved to Brantford Ontario in the sixth grade to live with her adopted family, and spend the second half of her public schooling at the W. Ross Macdonald provincial school for blind, low vision and deafblind students. She joins Ramya to discuss many aspects of her life as a blind and indigenous person in Canada, including education, culture and role models.
---
Season 2, Episode 5: Meet Me at the Intersection of…with Ben Akuoko
Living Blind- S2E5 Audio Transcript
In part 2 of our 3–part series "Meet me at the Intersection of…", we have guest host Ramya Amuthan and her guest, Ben Akuoko.
Ben is a 33-year-old black man who lives with Retinitis Pigmentosa. He is currently working at the CNIB (GTA) as a Program Lead for Advocacy and Accessibility. He was diagnosed with the eye condition at the age of 2 years old. Ben and Ramya discuss Ben's experience growing up with RP, how he's grown as a listener, and the steps he takes to take care of himself. He also delves into the intersections of culture, race and disability from his own experience of them; and some of the limitations and problems that organizations and institutions run into when they focus too much on one aspect of someone's identity.
Visit the CNIB Diversity and Inclusion page.
---
Season 2, Episode 4: Meet Me at the Intersection of…with Windy Ho Li
Living Blind- S2E4 Audio Transcript
In part 1 of our 3–part series "Meet me at the Intersection of…", we have guest host Ramya Amuthan, and her guest Windy Ho-Li. As an Asian immigrant to Toronto from Hong-Kong, Windy has a unique perspective on her lived experience with sight loss. Windy discusses several different aspects of her identity, and how these aspects have intersected to the point that their intersections are an integral part of her life.
Windy talks frankly about the impact of sight loss on her independence, about how her Christian faith has been a source of solace and encouragement, and about how her volunteer work in the Cantonese speaking community has included the convening of a support group for members with sight loss, for whom the language barrier has made access to English-based services and supports, a challenge. She also speaks openly about what it means to live with the uncertainty of sight loss, dealing with surgeries, the role of quiet time when faced with challenges, and what brings her life joy and satisfaction.
Some Resources Mentioned in our Episode:
---
Season 2, Episode 3: When Workplace Supports Work – One Journalist's Story
Living Blind- S2E3 Audio Transcript
Michelle McQuigge joins Naomi to discuss her career as a journalist for the Canadian Press. They talk about the power of inclusion and mentorship, the need to prove yourself to able-bodied people, and how the pandemic has made journalism more accessible for Michelle as a blind person. Tune in to this hot-off-the-press podcast to learn more!
---
Season 2, Episode 2: Learning from Experience – a Conversation with David Lepofsky
Living Blind- S2E2 Audio Transcript
Join student turned BALANCE occupational therapist Eve as she sits down with David Lepofsky, Canadian lawyer, educator, and disability advocate. Blind for much of his life, David discusses the advancements that have been made in assistive technology for the low-vision community, his distinguished law career, and impressive advocacy work. Stay tuned to the end of the episode for a post-show conversation with Eve and Naomi.
Some Resources Mentioned in our Episode:
---
Season 2, Episode 1: Accessing Visual Arts, Here's How
Living Blind- S2E1 Audio Transcript
John Rae and Melissa Smith join Naomi in discussing everything art! John is a well-known advocate in the GTA for blind and low vision folks, and has lived experience of accessing, or not accessing, art as a partially-sighted person. Melissa is currently the Assistant Curator of Access and Learning at the Art Gallery of Ontario, and tells us about what art galleries do well and what could be better when it comes to accessibility.
Take a listen and learn about tactile translation, guided tours, universal design, and how to get the most out of galleries, museums, and other places where art lives and happens.