Season 1: Living Blind Podcast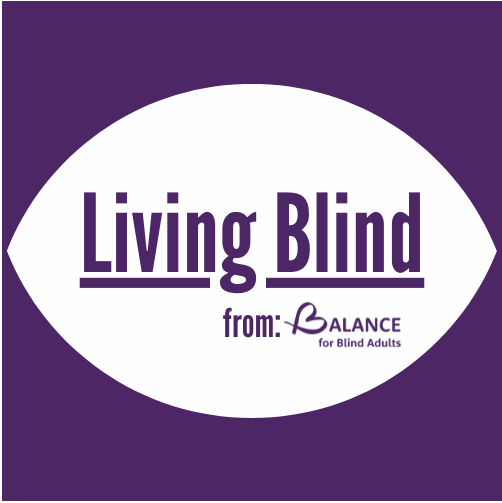 Season 1, Episode 9: Mental Health Matters with Lisa
Naomi sat down with Lisa Derencinovic, a social worker and counsellor with sight loss who lives and works in Toronto, Canada. Lisa has her own business, Counseling with Lisa, and provides counselling services, both group and individual, on contract with BALANCE for Blind Adults.
Naomi learns from Lisa about the intersection between blindness and mental health, ableism, and the counselling process. Lisa also provides strategies for physical, mental and emotional self-care that can help to take care of one's mental health. A key take-away is that seeking and receiving help for mental health is as important as doing so for your physical health and is not a sign of weakness, but of strength.
To learn more, visit her website Counselling with Lisa.
If you are living with sight loss in Toronto, and you need mental health support, please contact BALANCE.
If you are located in Canada and are in need of urgent mental health services, please call Crisis Services Canada at 1-883-456-4566. If you are located internationally, we urge you to reach out to your local mental health agency.
---
Season 1, Episode 8: Art & Artistry with Bruce
"The only person who knows my experience is me and if I don't speak up about this, no one will ever know and they will go through their life fill of assumptions."

Bruce Horak
Step behind the scenes as we sit down with Bruce Horak, painter, musician, and actor. He walks us through his process as a visually impaired artist, and what he's been working on since 2011. Learn more about Bruce by visiting brucehorak.com.
---
Season 1, Episode 7: The Outdoors with Lawrence
This month we chat with Lawrence, host of the podcast "Outdoors with Lawrence Gunther." He and Naomi chat about sailing, fishing, and cooking on a grill outdoors, among other things. To learn more about Lawrence, visit lawrencegunther.com.
---
Season 1, Episode 6: Out and About with Bill and Neisha
Naomi talks with Bill about safely travelling around your neighborhood, with tips and tricks from an Orientation and Mobility instructor. Later, Neisha talks about international travel and how she navigates airports. We have also included a link to YouTube channel "Planes, Trains and Canes" where you can follow professor Mona Minkara, a blind woman traveller, as she explores public transportation on her own, in cities like Johannesburg, London, Singapore, Istanbul!
---
Season 1, Episode 5: Parenting with Jewel
This episode explores the topic of parenting with a disability. Our guest Jewel shares some of the strategies she used to rear her children from their time as toddlers through to adulthood.
---
Season 1, Episode 4: Kitchen Hacks with Sunila and Ramya
We welcome this month's hostess with the mostess – Gobika – who interviews guests Sunila and Ramya to help uncover their clever cooking hacks.
---
Season 1, Episode 3: Active Leisure with Neisha
Naomi discusses ways to adapt leisurely activities to vision loss and the importance of maintaining an active lifestyle with this week's guest Neisha.
---
Season 1, Episode 2: Makeup
Our host Naomi interviews Jewel about make-up tips and tricks that she uses to ensure she is applying her make-up properly and to her satisfaction.
---
Season 1, Episode 1: Cooking with Jewel
Naomi talks about strategies for cooking safely and enjoyably. She interviews Jewel about how she makes her favourite dishes.