Because of BALANCE
Because of BALANCE, our clients gain the skills to feel confident and independent at work, home, and out in the community. Everyone in the BALANCE community has a "Because of BALANCE" story. In fact, it's the most common thing our staff hear, expressed as gratitude and appreciation.
From October 12th to November 9th, our latest campaign is live! You can visit our Because of BALANCE 2021  fundraising page to listen to our clients share their "Because of BALANCE" stories and make a donation today so that together we can meet our goal!
---
Client Stories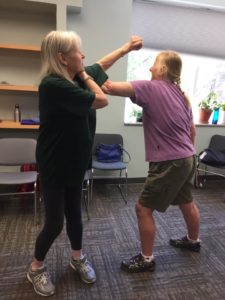 A few of our most dedicated clients took the time to express their gratitude by sharing their "because of BALANCE" stories in order to raise a whopping $12075.00 in 2019. We wanted to share their stories more widely so we've posted them below.
---
Amanda
I have been coming to BALANCE for about 6 months now. As a university student, navigating campus can be difficult. However, with the support of the mobility instructors, I am learning how to walk to my classes with confidence. The staff at BALANCE catered their teaching style to fit my learning needs, making the experience stress-free. Back in May, I attended the Blind Square workshop, which was very insightful and hands on. I learned how to use Blind square which is a navigational App, which makes getting around easier. I also learned some great tips, from the Assistive Technology instructor, which makes using my technology more efficient.
Because of BALANCE I am continuing to become more independent.
---
Anne Marie
I've been coming to BALANCE for Technology Lessons for the past 2 years ever since I was diagnosed with Macular Degeneration. Before that, I was very dependent on my PC and smartphone for daily tasks, so Assistive Technology was something I would have to learn. BALANCE has been so helpful to me throughout this journey. I had purchased a new PC so the first thing we tackled was adjusting the color, magnification, and learning Zoom text. What I really value about BALANCE is that their service is individualized and flexible in terms of scheduling and learning. As a Community Nurse I have been able to refer clients to BALANCE who have benefited from group programs and workshops. These programs are not funded by the Ministry of Health and require support from donations. Because of BALANCE I've been able to adjust to my vision loss by learning new technology. BALANCE has been an incredible support for me.
---
Bruno
Years ago I was working for The Canadian National Institute for the Blind. While I was out in the community as an ILS Specialist, I would often refer clients to BALANCE to fill the gaps CNIB were missing, like urgent services including Orientation and Mobility Training. BALANCE provides a number of unique programs and services. The BALANCE team is also very responsive. After I retired, I began taking Technology Instruction with them because they have 3 instructors who are very passionate. In fact, my wife did the same thing. Because of BALANCE I'm much more comfortable in maneuvering around the internet using JAWS. Now I can download books or place online orders. Their community aid, referral services, and health and wellness programs also stand out to me. Through their newsletter, my wife and I discovered a 4 week meditation class. BALANCE has been a great support.
---
Cat
Because of BALANCE: I had a place to go for help when I was in crisis & my own internalized ableism prevented me from understanding why.  I got the help that I needed to find my way.
Because of BALANCE: I don't have to take Wheel Trans as often as I used to, because of the excellent orientation & mobility training I received.
Because of BALANCE: I have a peer-group of  amazing, talented, witty, courageous,  & compassionate people, some of whom are BALANCE staff.  They keep me strong & confident.
Because of BALANCE: I have had some wonderful and unique opportunities in self-growth, healing and recreation that are empowering and inspiring.
Because of BALANCE my quality of life, mobility & confidence is significantly improved and I am more involved in life than I have been for years.
That feels so good!
---
Corinne
I came to BALANCE about 3 years ago. The team at BALANCE took a holistic approach to service delivery, connecting me with various health and wellness programs in addition to navigation and mobility training. One of my favorite experiences at BALANCE has been with the Sharing Space Support Group, which I looked forward to attending each week without fail. The individuals in our session had wonderful chemistry, and offered a sense of connection and belonging that lasted beyond the group's conclusion – we are now planning get-togethers all the time! Because of BALANCE I feel recognized and valued as a whole, well-rounded individual. BALANCE has been an enormous support in many aspects of my life.
---
Doug
My vision loss started while living in Thailand due to my first brain hemorrhage (2016) I experienced reduced vision. However while recovering I had a second hemorrhage which caused further reduced vision. I received vision therapy with BALANCE during this time and my vision was improving. Later that year (2018) I had my third hemorrhage and as expected my vision declined again. At this time I was receiving vision training and assistance with BALANCE for blind adults. BALANCE has worked with me, even after a fourth hemorrhage. They enabled understanding of technology and how to use accessibility features on my phone. Because of BALANCE I am able to send e-mails, make phone calls and send messages competently. The resources offered at BALANCE are fantastic and working with BALANCE staff has given me the tools and technological skills to live a functional life in the now.
---
Joseph
My experience with BALANCE started in 2005, when an Assistive Technology Instructor was helping me at my residence. I was at the University of Toronto Mississauga taking Computer Coding and found that my professor and tutor didn't know how to adjust or explain the course content to meet my needs. Doug was there to help, he taught me so much. Since then, I've taken a number of workshops and training including independent living, Excel training, the Blind Square course and the Pre-employment Program. Because of Balance I always feel connected to and supported by my community. It makes a difference that BALANCE hires instructors who are also blind or visually impaired because they understand the limitations of technology and are able to adjust content to meet individual needs.
---
Lindsay
When I lost my sight, which was 13 years ago, I was taking mobility training with an agency who could only meet 1 day a week which didn't work for me, I needed more time. I was referred to BALANCE and the rest is history. Because of BALANCE, I can walk down the street independently and take the subway and bus. If I need to learn a new route, BALANCE is only one phone call away (which is a HUGE plus for me). They worked with me up to 3 days a week, one-on-one. BALANCE also helped me secure my current employment. I work in a soft goods warehouse where I sort security tags and hangers, fold clothing, package items and I can do all of this by touch. Without asking anything in return, BALANCE taught me the skills to live more independently – cooking, cleaning, using the microwave and much more.
---
Michael
I was referred to BALANCE 5 years ago. My introduction led to mobility and technology instruction where I learned to use VoiceOver on my Macbook, Microsoft, and tips for my Iphone. I value that BALANCE hires instructors who are blind/visually impaired and use the skills they teach. The staff understand limitations of technology and find solutions for the blind community and individuals. My new tech knowledge and confidence smoothed the transition and enhanced my experience at school. Because of BALANCE I feel that my voice as a blind person is being heard and that my concerns as a blind individual are addressed. BALANCE makes me feel more represented in the community and encourages those who feel lost and forgotten to strive for more.
---
Neena
Over the years, BALANCE has offered many programs to me. I received help from the community engagement program which helped me find housing and other services in my community. The Daily Living skills program helped me become much more confident in the kitchen, even after an apartment fire. Occupational Therapy helped me be more organized and helped me in starting my own online business. I have been with BALANCE since 1997, ever since the new Executive Director took over it's been great. BALANCE is hands on and not judgmental, they treat me with respect and see my potential. Because of BALANCE I was able to run my first group on my own with self-confidence and I obtained stronger leadership skills.
---
Quassim
Since becoming a client of BALANCE 3 years ago, I've benefited greatly from their Assistive Technology training and workshops. I've enjoyed learning keyboarding skills, voice over, how to access my email… the list goes on. Technology limits the barriers to communication and because of BALANCE I feel even more connected with family and friends since learning these skills. BALANCE staff are so friendly and accommodating and very supportive. They've taught me how to order wheel trans, use uber, and to get around the city more independently as a whole. BALANCE has been an enormous support when it comes to building my confidence in using technology.
---
Sunila
I joined BALANCE in 2016 and I got very useful Orientation & Mobility skills training, I took yoga too. Later on I started with technology – Because of BALANCE I  am able to do all sorts of things on my computer – like  submit my insurance claims online (before it was my husband faxing it, they don´t have that anymore). I have learned how to use my Android phone, I use Be my eyes application, Elizabeth taught me how to use Aira app and ever since it is in my life I have much more independence, I can go to the hospital, find the elevator, go places alone. I even used Aira to pick wedding clothes for me.
I also benefited greatly from OT lessons – we did exercises in the pool together and she taught me what to do. Now I go to the pool, exercise on my own because I know how to, I can check oxygen levels with the help of Aira and Be My Eyes. Nothing is stopping you, you are your own enemy and your own friend! It depends on your point of view!
---
Susanna
When I arrived in Toronto from the UK I felt a bit lost. I'd had some help from organizations before, but Toronto was new to me, and I had to adjust to a new home and a new school. I had my first visit from BALANCE with a wonderful witty man called Tom, who came accompanied by his seeing eye dog Nate, who immediately put our cat in its place. A bit later Anita came to help with mobility, never my strong point, but with her patience and skill, I began to feel less nervous about getting around. I also got help with living and personal skills. In intensive, information loaded sessions B. gave me detailed directions on using my laptop, always making me do the work, sort of like an Apple genius but for blind people. Learning technology and getting mobility tips from other blind people gave me real determination to keep trying. BALANCE never gave up on me, though I must have sorely tried their patience. BALANCE gave me the confidence to believe in myself and to never give up.
---
Sylvia
I am Sylvia and in 2011 I was newly married and new to Toronto. Other than getting groceries downstairs in our condo building, I had no idea how to navigate the city. My husband mentioned that i should try calling BALANCE after trying to get orientation services with another agency failed due to the wait list. I gave BALANCE a call and an instructor was at my place the next week orienting me to my neighborhood and eventually the whole of Toronto! It was SO liberating to be able to know what was around me. BALANCE again came to my rescue a couple years ago, I upgraded my computer from XP to Windows 10 and Doug helped me through the process. Because of BALANCE I'm able to participate in my community. I am on the Social Committee of our condo building and I am able to walk to local businesses and interact with my community via email and Facebook thanks to the computer training. I can't thank Balance enough for always being there. They are truly a gem of an agency!
---
Tiffany
I've been a client of  BALANCE since 2017. One of the BALANCE programs that I've benefited greatly from is their support group. Through the support group, I received compassion, understanding and hope. Because of BALANCE, I was able to receive the support that I need. Without BALANCE I would have likely fallen through the cracks. Most agencies don't recognize me as a client because I have a unique vision impairment in which I'm extremely sensitive to light. Being photophobic is one of the disabling symptoms I live with due to my chronic conditions. BALANCE has given me the strength to accept and the courage to flourish. BALANCE provides amazing programs and specialized services for people who are blind or visually impaired, people like myself.
---
Victor
Since I became totally blind I've learned to depend on other people when travelling, first it was my wife, then after she died when I moved to TO, it became even more important to have other people with me when travelling. After I started working with BALANCE they have provided me with a great mobility instructor who has been teaching me to travel these noisy busy streets, shrug my shoulders and approach every subway station with trepidation and courage. Because of BALANCE and especially my orientation and mobility instructor, I can conquer the subways and most of the traffic with pride at the end of the day that I have been able to manage being independent.
Although I've had some technology for a few years, with the assistance of technology instructors at BALANCE I am starting to properly use my smartphone, email and other devices with the patient help of the BALANCE instructors.