Groups and Events
Building Connections Starts at BALANCE!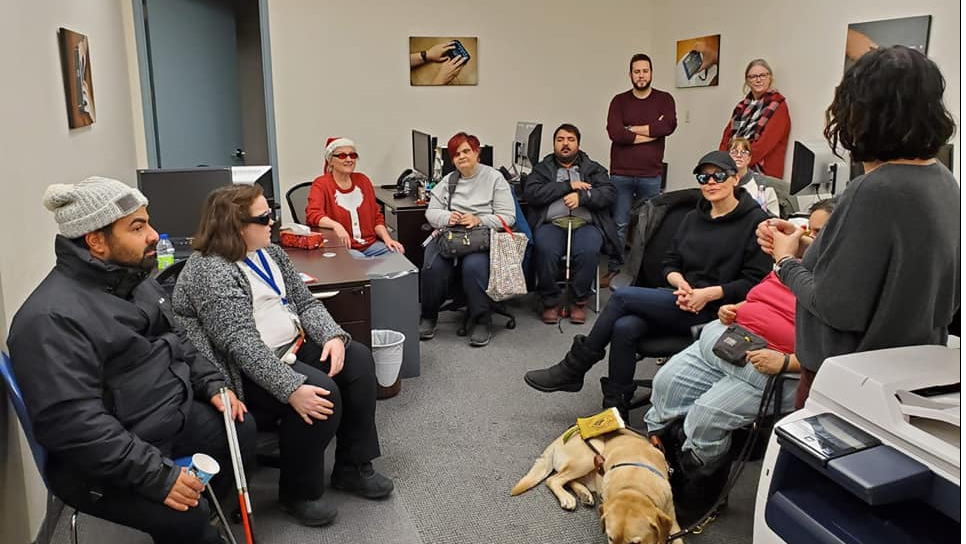 BALANCE offers a wide variety of groups and events so that our clients can seize opportunities to connect with others in the community, stay active and learn new skills.
Register for groups and events
To register for ongoing and upcoming groups and events, please contact BALANCE at 416-236-1796 ext. 0 or send an email at info@balancefba.org.
Learn more about the many activities we offer!
Wellness

Sharing Space Support Group: The Sharing Space Support Group (SSSG) is year-round, professionally facilitated group counselling for adults who are blind or living with sight loss. This group address' life challenges specifically for blind people, whether big or small, in a safe and supportive group experience. Our Sharing Space Support Group is facilitated by a registered Social Worker with lived experience.

Strength and stability: The classes safely focus on the muscle groups that encourage mobility and support daily living to help promote physical independence. Balance, flexibility and endurance will be incorporated into many of the exercises inherently.

Musical Theatre Movement Workshop: The dance-based fitness class will work every major muscle group and allow for modifications for all levels and abilities. Classic tunes with a musical theatre theme will bring you and your muscles back in time as we show tune it up together!
Skill Building

Stay Safe! A Comprehensive Self-Defense Workshop Series for Blind and Partially Sighted Adults: This course aims to encourage honest discussions about personal safety and violence. It covers the basics of self-defense, and includes additional skills like verbal de-escalation and practicing evaluative techniques in threatening scenarios, while also exploring topics such as violence against the blind and partially sighted, challenging vulnerability and responding to disablism/ableism. 
Arts & Leisure

Let's Get Quizzical! Trivia Nights: Need we say more? These evening trivia nights always mean tons of fun, friendly competition and the chance to win a small prize!
Technology

Travelling With Confidence and Control Using GoodMaps Outdoors GPS: This complete GPS system is designed specifically for people with sight loss, includes built-in on-route turn-by-turn navigation, and is available for both iOS and Android mobile operating systems.The purpose for this class is to enhance the ability of independent travel for persons who are blind or have low vision.
Watch this space, our Facebook and Instagram pages, or newsletter for more info!
---
You can ensure that our groups and events are always running for those who need them.
Learn more about how, on our Donate Now page.
---
Some of our Past Programming Partners include…