Season 3: Living Blind Podcast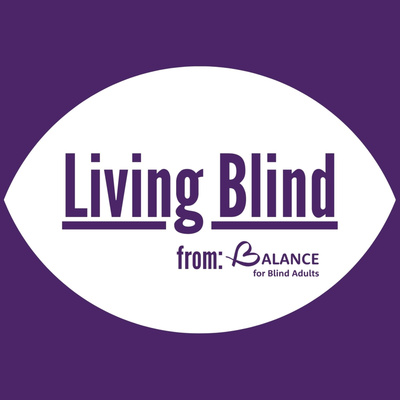 ---
Season 3, Episode 6: A New Country, A New Life with Minette Samaroo
Living Blind S3E6 Audio Transcript (PDF)
Living Blind S3E6 Audio Transcript (Word)
This month on Living Blind, Naomi Hazlett is joined by Minette Samaroo to share her journey; from Guyana to Canada; from incapacity to capability; from exclusion and isolation to social inclusion and empowerment.
Born with Retinitis Pigmentosa and having lived with vision loss for most of her life, Minette was born in Guyana, South America, and migrated to Canada in September 2014. She is employed at Apple Sherway Gardens as a Sales Specialist. She is currently pursuing a BA in Psychology at York University, and since this interview, has graduated from the Assistive Technology Apprenticeship Program here at BALANCE.
Since 2017, Minette has worked with the Alliance For Equality Of Blind Canadians (AEBC) to advocate for social change. She has designed and delivered consultations and workshops on meaningful employment, accessible education, housing, and customer service.
In addition to her work with the AEBC, Minette is an Accessibility Tester for Fable Tech, and serves as co-chair for The Accessible Housing Network and The Ontario Assistive Devices Program Working Group. Her ultimate goal is to remove inequality, discrimination, and injustice in order to make this world a better place for each of us.
Minette talks to Naomi about her life growing up with vision loss in Guiana, the challenges she faced while migrating to Canada, the freedom to work and manifest her potential changing the perception of disability, and her aspirations in counselling psychology. Her resilience is also rooted in her embrace of the Christian faith, which began as an isolated child in Guiana, and Christianity's embrace of her.
What did you think of this episode? Get in touch with the podcast by joining our Listeners Facebook group, or by sending us an email at LivingBlindPodcast@BalanceFBA.org.
Follow BALANCE for Blind Adults on Facebook, Twitter, Instagram, and Youtube.
---
Season 3, Episode 5: Living Blind – And Deaf with Barbara Davis
Living Blind S3E5 Audio Transcript (PDF)
Living Blind S3E5 Audio Transcript (Word)
We often hear about how "Blind people are a minority within the population," but within that broad spectrum of blindness there is an even smaller minority of folks who are born with, or develop later in life, both hearing loss and vision loss; otherwise known as deafblindness. We have not talked about living with deafblindness on our show before; until now!
Joining us this month is Barbara Davis, a devoted advocate, mother, and Grandmother. Barbara was born with Usher Syndrome, a condition in which a person has both partial or profound hearing loss in addition to progressive vision loss, due to the eye condition known as Retinitis Pigmentosa (or RP for short). (Listeners may recall previous guests on our show who have also talked about RP).
Barbara got her start in advocacy work in 2000, as Deafblind intervenor Services were losing funding and faced being dropped as a service offered under CNIB. She founded the Emergency Intervenor services program in 2013, and is currently working with the National Association of Deafblind America on a week-long deafblind conference to take place in 2030 in Atlanta Georgia, in honour of Helen Keller's 150th birthday.
Barbara is currently a member of multiple boards, continually advocating for all disabilities to ensure that everyone has equal access. Every spring, she can be found crocheting squares for the Yarnbombing for Deafblind Awareness month.
When she is not devoting her time to volunteer work, she is busy spoiling her grandchildren in her home in Burlington Ontario, and exploring the outdoors with her husband.
Join us as Barbara takes us on her life's journey, from growing up with vision loss and gradual hearing loss, her endeavours in the world of advocacy for programs and services for people with deafblindness, and that hectic period of time when she was balancing being a full-time mother and going back to school to get her high school diploma. Finally, she busts some of the myths and misconceptions surrounding deafblindness, and disability as a whole.
What did you think of this episode? Get in touch with the podcast by joining our Living Blind Listeners Facebook group, or by sending us an email at LivingBlindPodcast@BalanceFBA.org.
Follow Balance for Blind Adults on Facebook, Twitter, Instagram, and YouTube.
---
Season 3, Episode 4: Act Naturally with Alex Bulmer and Shayla Brown
Living Blind S3E4 Audio Transcript (PDF)
Living Blind S3E4 Audio Transcript (Word)
The holiday season is upon us once again, and we thought it was the perfect opportunity to do an episode all about theatre and the performing arts. After all, there is nothing like a good movie, play, or television program to compliment the cold, snowy winter. And so, this month, Naomi Hazlett is joined by stage and film actresses extraordinaire, Alex Bulmer and Shayla brown, to talk all about navigating the vast world of performing arts when you have low or no vision.
Named one of the most influential disabled artists by UK's Power Magazine, Alex Bulmer has over thirty professional years' experience across theatre, film, radio and education. She is fuelled by a curiosity of the improbable, dedicated to collaborative practice, and deeply informed by her experience of becoming blind. She is activated by obstacles, well exposed to the absurd, and embraces the disciplines of generosity, listening, and uncertainty within her artistic and personal life. Alex is co-founder of The Fire and Rescue Team, former artistic director of Common Boots Theatre, and was recently lead curator of CoMotionFestival 2022 with Harbourfront Centre. She is an award winning actor, playwright and a BAFTA nominated screenwriter. Shayla Brown is an actress who has appeared in various film, television, and theatre productions. She is known for her supporting role in Sarah Polley's Women Talking, as well as appearing in The Apple TV original series, See. She is also an up-and-coming performer in the Canadian Theatre seen, starring in the world premiere of George F. Walker's orphans for the Czar in Toronto. When asked about working with Shayla, Sarah Polley, an academy award nominee and the director of Women Talking, said "she brought this wisdom, vulnerability and strength. She was also deeply attuned to the dynamics in the room, which is so important on set. She's incredibly generous, and she's a couple of steps ahead of most actors. A lot of actors will bring up the problems they're facing, Shayla also offers solutions, and that's incredibly helpful as a director." Together they talk to Naomi about how they got started in the performing arts, the similarities and differences between live theatre and film and television, and tell stories about experiences working with directors and set designers in order to ensure they had accommodations on set, even mining them for creative gain. Finally, they provide some advice to those getting started in the performing arts, and share their recommendations for the media and performing arts industry going forward, particularly in the realm of casting blind and low vision actors across all types of roles, and creating inclusive environments where everyone can excel. As Alex herself puts it, "You are not playing blind, but rather you are playing a character who is blind."
Follow Alex Bulmer on Facebook and Instagram, her website, and Perceptual Archaeology. Follow Shayla Brown on Facebook, Twitter, and IMDB.
What did you think of this episode? Get in touch with the podcast by joining our Listeners Facebook group, or by sending us an email at LivingBlindPodcast@BalanceFBA.org. Follow us on Facebook, Instagram, YouTube and Twitter.
Donate to BALANCE: BalanceFBA.org/donate
---
Season 3, Episode 3: To Dog or Not to Dog? with Samantha Moore and Anita Laurnitus
Living Blind S3E3 Audio Transcript (PDF)
Living Blind S3E3 Audio Transcript (Word)
In this episode of Living Blind, we are tackling the age-old question, To Dog or Not to Dog?
Host Naomi Hazlett is joined by first time dog owner Samantha Moore, and Certified Orientation and Mobility Specialist Anita Laurnitus. Sam is the Events lead at Equal Voice, a Multi-partisan organization which advocates for women and gender diversity in Canadian Politics. She previously worked as an officer of education at Fighting Blindness Canada, and as the curatorial assistant for communications with Ingenium. When she is not working, she can be found drawing awesome works of art, and salsa dancing at the latest happenin' venues. She got her first guide dog, a golden yellow Labrador retriever named Rockette, in March of 2022.
Anita is a certified orientation and mobility instructor with the Toronto District School Board. She previously worked as an O and M instructor and volunteer coordinator here at Balance, from 2007 to 2022.
Come along with the panel for a fun, free flowing chat, as Sam takes us on a journey of the first year having Rockette in both her personal and professional life, the pros and cons of canes and dogs, and what ultimately influenced her decision to get a dog after so many years. Anita expounds on Sam's experience from her vantage point, and explains how she conducts O&M training for clients who travel with canes VS. those with dogs.
Sam talks about the application process, from choosing a school and filling out the paperwork, matching the right dog for you and your lifestyle, and evaluating the honeymoon phase to determine if the assigned dog is the one for you. For Sam and others like her, this also entailed going through the whole process during the pandemic, so what challenges did that present to clients, the schools, O&M instructors A la Anita, and the dogs themselves. Sam also talks about Rockette's upbringing in prison, as part of the Prison Puppy Program.
For more information on choosing a guide dog school, check out a list of schools available in Canada and the United States.
Follow Samantha and Anita on LinkedIn, and Rockette on Instagram.
---
Season 3, Episode 2: Facilitating Independence with Everyday Activities: A Conversation About Occupational Therapy with Eve Pervin
Living Blind S3E2 Audio Transcript (PDF)
Living Blind S3E2 Transcript (Word)
In honour of Occupational Therapy Month (October) in Canada, Naomi Hazlett sits down with registered Occupational Therapist and previous guest host Eve Pervin, for a light-hearted and in depth interview all about the field of O.T. and the services both useful to blind people, and helpful for participants at BALANCE. Eve started at BALANCE while she was still a student at the University of Toronto, and worked full time with the organization from September of 2021 through September 2022. Longtime listeners might also recognize Eve's voice from her Interview with David Lepofsky.
In this episode, Naomi and Eve discuss the lessons Eve has learned working as an O.T. with blind and partially sighted clients of all ages, as well as the myths and misconceptions surrounding both the world of blindness and the field of occupational therapy itself. Hear some of Eve's memorable stories about helping clients with cooking in the kitchen, applying makeup in the mirror, making devices with touch screens accessible, and finding alternative ways of reading books and other print materials.
The two also discuss the intersectionality and plurality of clients served by BALANCE and how the clients themselves are at the centre of decision-making and program planning as an Occupational Therapist. Finally, Eve provides some words to the wise for O.T's of all ages and stages in their careers, and also health care practitioners across all walks of life.
---
Season 3, Episode 1: Nothing to Lose-Everything to Game With Richard Bennett
Living Blind S3E1 Audio Transcript (PDF)
Living Blind S3E1 audio Transcript (Word)
Are you someone who is curious about video games, but doesn't know if there is an outlet for you? Or are you a hard core gamer? Well, accessibility for people who are blind or visually impaired has become a huge priority amongst developers and enthusiasts in the gaming industry. In light of the annual "Everyone Games" accessible gaming extravaganza being just around the corner, we are kicking off the third season of this podcast with an episode about this very topic, as Our host Naomi Hazlett is joined by Knights of the Braille Co-founder, Richard Bennett. Knights of the Braille is an inclusive online gaming community of enthusiasts dedicated to providing a variety of accessible options for tabletop roleplay games (TTRPG's, and video games.
Having grown up in South Georgia where Dungeons and Dragons was perceived as being evil and dangerous, Richard tells us about his humble beginnings in the world of RPG's, and the early days of making games accessible. This eventually lead up to him joining the team over at Knights of the Braille in 2019. He elaborates on how the Community organizes games for its members, provides a brief rundown of the current lineup of games being hosted on their discord server, and gives us a preview of what's coming up in this year's Everyone Games taking place on Friday September 30 through Saturday October 1.
Join Naomi and Richard as they break down some of the lingo used in gaming, reminisce about a few of their fondest memories during gaming sessions, and have some fun doing a little role-play on the spot, with character voices thrown in for good measure.
Visit their website and find out more about them.
---
Living Blind Season 3 Trailer
The Living Blind podcast returns for a third season, with the first episode dropping on Friday September 23. Each month we will have in depth interviews exploring the lived experiences of ordinary blind people doing extraordinary things, thinking outside the box in order to help live life to the fullest, and telling us about it so we can share it all with YOU. On Tuesday September 20, our Executive Producer Deborah Gold and our Producer Jeff Rainey had a candid chat about this amazing Season 3 line-up, and also unveiled the news about the new Living Blind Listeners Facebook Group.
Visit the Living Blind Listeners Facebook Group
---
Living Blind Season 3 Promotional Video
---