Season 3: Living Blind Podcast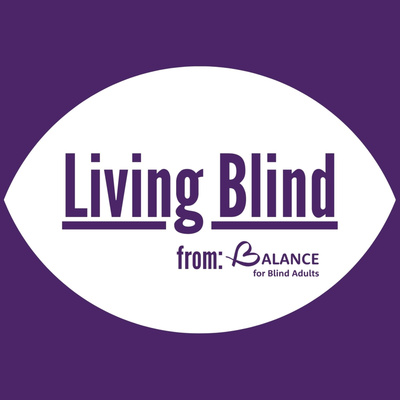 ---
Season 3, Episode 2: To Dog or Not to Dog? with Samantha Moore and Anita Laurnitus
Living Blind S3E3 Audio Transcript (PDF)
Living Blind S3E3 Audio Transcript (Word)
In this November episode of Living Blind, we are asking, "To Dog or Not to Dog?"
Host Naomi Hazlett is joined by first time dog owner Samantha Moore, and Certified Orientation & Mobility specialist Anita Laurnitus. Sam is the Events lead at Equal Voice, a Multi-partisan organization which advocates for women and gender diversity in Canadian Politics. She previously worked as an officer of education at Fighting Blindness Canada, and as the curatorial assistant for communications with Ingenium. When she is not working, she can be found drawing awesome works of art, and salsa dancing. She got her first guide dog, a golden yellow Labrador retriever named Rockette, in March of 2022.
Anita is a Certified Orientation and Mobility specialist with the Toronto District School Board. She previously worked as an O&M specialist and Volunteer Coordinator here at BALANCE from 2007 to 2022.
Come along with the panel for a fun, free flowing chat, as Sam takes us on a journey of the first year having Rockette in both her personal and professional life, the pros and cons of canes and dogs, and what ultimately influenced her decision to get a dog after so many years. Anita expounds on Sam's experience from her vantage point, and explains how she conducts O&M training for clients who travel with canes VS. those with dogs.
Sam talks about the application process, from choosing a school and filling out the paperwork, matching the right dog for you and your lifestyle, and evaluating the honeymoon phase to determine if the assigned dog is the one for you. For Sam and others like her, this also entailed going through the whole process during the pandemic, so what challenges did that present to clients, the schools, O&M instructors, and the dogs themselves. Sam also talks about Rockette's upbringing in prison, as part of the Prison Puppy Program.
For more information on choosing a guide dog school, check out a list of schools available in Canada and the United States.
Follow Samantha and Anita on LinkedIn, and Rockette on Instagram
---
Season 3, Episode 2: Facilitating Independence with Everyday Activities: A Conversation About Occupational Therapy with Eve Pervin
Living Blind S3E2 Audio Transcript (PDF)
Living Blind S3E2 Transcript (Word)
In honour of Occupational Therapy Month (October) in Canada, Naomi Hazlett sits down with registered Occupational Therapist and previous guest host Eve Pervin, for a light-hearted and in depth interview all about the field of O.T. and the services both useful to blind people, and helpful for participants at BALANCE. Eve started at BALANCE while she was still a student at the University of Toronto, and worked full time with the organization from September of 2021 through September 2022. Longtime listeners might also recognize Eve's voice from her Interview with David Lepofsky.
In this episode, Naomi and Eve discuss the lessons Eve has learned working as an O.T. with blind and partially sighted clients of all ages, as well as the myths and misconceptions surrounding both the world of blindness and the field of occupational therapy itself. Hear some of Eve's memorable stories about helping clients with cooking in the kitchen, applying makeup in the mirror, making devices with touch screens accessible, and finding alternative ways of reading books and other print materials.
The two also discuss the intersectionality and plurality of clients served by BALANCE and how the clients themselves are at the centre of decision-making and program planning as an Occupational Therapist. Finally, Eve provides some words to the wise for O.T's of all ages and stages in their careers, and also health care practitioners across all walks of life.
---
Season 3, Episode 1: Nothing to Lose-Everything to Game With Richard Bennett
Living Blind S3E1 Audio Transcript (PDF)
Living Blind S3E1 audio Transcript (Word)
Are you someone who is curious about video games, but doesn't know if there is an outlet for you? Or are you a hard core gamer? Well, accessibility for people who are blind or visually impaired has become a huge priority amongst developers and enthusiasts in the gaming industry. In light of the annual "Everyone Games" accessible gaming extravaganza being just around the corner, we are kicking off the third season of this podcast with an episode about this very topic, as Our host Naomi Hazlett is joined by Knights of the Braille Co-founder, Richard Bennett. Knights of the Braille is an inclusive online gaming community of enthusiasts dedicated to providing a variety of accessible options for tabletop roleplay games (TTRPG's, and video games.
Having grown up in South Georgia where Dungeons and Dragons was perceived as being evil and dangerous, Richard tells us about his humble beginnings in the world of RPG's, and the early days of making games accessible. This eventually lead up to him joining the team over at Knights of the Braille in 2019. He elaborates on how the Community organizes games for its members, provides a brief rundown of the current lineup of games being hosted on their discord server, and gives us a preview of what's coming up in this year's Everyone Games taking place on Friday September 30 through Saturday October 1.
Join Naomi and Richard as they break down some of the lingo used in gaming, reminisce about a few of their fondest memories during gaming sessions, and have some fun doing a little role-play on the spot, with character voices thrown in for good measure.
Visit their website and find out more about them.
---
Living Blind Season 3 Trailer
The Living Blind podcast returns for a third season, with the first episode dropping on Friday September 23. Each month we will have in depth interviews exploring the lived experiences of ordinary blind people doing extraordinary things, thinking outside the box in order to help live life to the fullest, and telling us about it so we can share it all with YOU. On Tuesday September 20, our Executive Producer Deborah Gold and our Producer Jeff Rainey had a candid chat about this amazing Season 3 line-up, and also unveiled the news about the new Living Blind Listeners Facebook Group.
Visit the Living Blind Listeners Facebook Group
---
Living Blind Season 3 Promotional Video
---